You are currently browsing the tag archive for the 'ages:all' tag.
We visited my grandparents this evening, and while helping my grandma wash and dry the dinner dishes, we came across something that has really touched me.  It's a simple waistline apron, handmade many, many years ago by my Italian seamstress great-grandmother.  The apron is beautiful and floral, yet practical and sturdy.  It has a single pocket on the right side, which I can't help but envision held something magical (despite my grandparents saying it often contained my great-grandmother's handkerchief).  My great-grandmother was a strong, independent, self-sufficient woman, known for her generosity, attention to detail, and gifts of food.  It wasn't at all unusual for her to show up at her neighbor's doorstep with some fresh-baked goodness to bestow upon them, and my grandfather still talks about the way his mother cooked.  I'd like to believe that some of her talents and love of food have been passed down throughout our family lineage.
In her honor, I've decided to share a recent dinner from our home, something very simple and very Italian.  It's a cross between a lasagna and a rollatini, and was delicious enough to leave us looking forward to the extra tray of it waiting in the freezer.
To make this at home
Slice one large eggplant into one-inch slices, and bake at 450 in a single layer on a greased baking sheet, 10 minutes on each side.  Meanwhile, combine 1/2 cup of part-skim ricotta, 3 tablespoons of Parmesan cheese, one egg, a little salt and pepper, and a handful of parsley and basil in a bowl.  Spray an 8×8 baking dish with cooking spray, and cover the bottom with your favorite marinara sauce.  On top of the sauce, layer as follows: half of the eggplant, ricotta mixture, three cups of raw baby spinach, more sauce, remainder of eggplant, and more sauce.  Top with two tablespoons of Parmesan and a handful (about 1/2 cup) of part-skim mozzarella.  Bake at 350 for 30 minutes.  To make it extra authentic, use your own homemade sauce, and don't measure any of the ingredients as you go along.  This came together quickly, my kids loved it, and I doubled the recipe and froze an extra tray of it for a future dinner.  Serve with a green salad, and mangia!
To find out what's for dinner at our house, stop by, or become a fan on Facebook.
As a Hudson Valley Parent I can personally attest to the importance of having trustworthy and reliable childcare. However, what happens when your work schedule doesn't fall neatly into a 9 to 5 template? Thankfully, there are facilities like Hunny Bee's Daycare to help pick up the slack.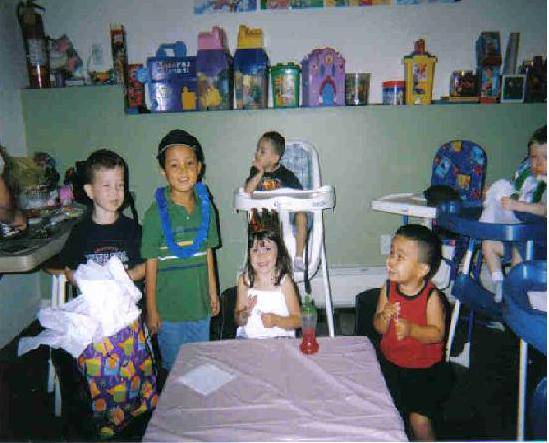 Hunny Bee's Daycare is run by Anne Monahan, who is just about the warmest person you could ever hope to meet. In addition to boasting a well-trained, caring, and family oriented staff, Hunny Bee's can accommodate your ever-changing schedule with weekend and overnight care available upon request. Her kind and caring staff also offers a Pre-K curriculum which includes instruction in American Sign language.
Hunny Bee's Daycare was established in 1994, and has been an important part of the community ever since. For more information or to make an appointment contact Anne at (845) 569-8665 or amonahana@yahoo.com.
Desserts can be a real challenge for any family trying to eat healthy.  Open any cookbook and find recipes for cakes, cookies, pies, and everything sweet… recipes loaded with perhaps your day's worth of calories, fat, or sugar.  Everything in moderation, yes; but why not take a step back and start out with a dessert that doesn't require you to cringe as you serve it to your loved ones?
My husband's birthday was this week, and I agonized over what to make. As I have mentioned, he is pre-diabetic, and I do my best to make sure that everything I make for my family has some nutritional benefit in addition to taste.  After much recipe sifting, I turned to a tried-and-true favorite, the Sneaky Chef.  I've sung her praise before as I've shared pictures of veggie purees, but this recipe takes it to a new level.
OUR MOST RECENT DESSERT NIGHT

Check out the recipe, which my kids and I made together before school.  With some melted chocolate chips, whole grain pastry flour, and a mini-bundt pan (looks just like a muffin pan, with little holes in the center) these beauties come alive.  What initially made these famous were the purees (you'd never know it from the taste, but pureed spinach and blueberries are hidden inside) but try them for yourself and see how incredible they are.  I love them for birthdays because it's easy to take a serving without having to "even out" the cake to make sure you didn't (heaven forbid!) leave it crooked, and with a little sprinkle of powdered sugar, you can skip the too-sweet frosting.  I actually felt good watching my kids eating them (wheat germ! spinach! blueberries!), and didn't feel all sugared-up after having it.  How often can you say that about dessert?
Stop by to see what we're having for dinner. And don't forget to become a fan on Facebook!
Well, I had it, but the bubble burst, lol.  The middle of January found me handing my children over to the "Original Stressed out Dinner Mom" aka, my mother Marsha and my father so I could jet off to balmy San Francisco for the annual Fancy Food Show.  For 6 days and 5 nights, I had the pleasure of not having to cook.  I forgot how GREAT it is not only to have someone else cook for me, but to actually do the dishes too!!  It got me thinking… For way too long, I've just simply DONE everything in my kitchen without having anyone help me.  Not for any other reason than, I can do it better, and faster myself.
When the bubble burst and I came home (don't worry- it was a successful trip & we found a ton of new products we're going to introduce soon- can you say all-natural chocolate sauce that's to DIE for???) I was rested and relaxed but most of all, inspired to re-organize our dinner routine so I could get the help I needed.  I have heard many moms say "It's too much HASSLE to have the kids in the kitchen with me!"  and I've also heard from adults who can't cook  "My mom NEVER let me in the kitchen- how could I learn??"  So what can we do?  Find balance.  Get your kids involved little by little in a way that you ALL can adapt to- it's good for all of you.
Now, I will say, in our house, it's taken a bit of adjustment, lol.  When we are stuck in our habits, it's hard to break out of them (especially the kids!!) but I realized that it simply was WORTH the pain to get the kids to help in the kitchen.  The learning curve won't be that great, thanks to the dog the mess on the floor CAN actually be kept to a minimum, and the skills I am teaching them will not only help me, but help them for  a lifetime to come.
In addition, it's inspired me to create a Time Savor Gourmet Kids in the Kitchen cooking class in conjunction with Mountain Restaurant Supply in Newburgh.  We held the first class this past Saturday to a sold out crowd of 8-12 year olds and had an amazing time.  They learned a lot (and so did I!)  More classes are forthcoming, so check the link above for the schedule.
This week finds my children learning how to set the table.  How to walk with sharp knives (I'm actually having the kids use sharp, steak-type knives at the table to cut their food as it makes it SO much easier for them to cut and I'm sitting there watching them the whole time, so they're learning knife skills too!) and the most important one of all?  How to load the dishwasher.  Yup, I've given up control of the organization of the dishwasher.  The minute I realized that I was micromanaging the silverware was the minute I said "whoa- what the heck has happened to you Stacey??"  Does it REALLY matter anyway?  The answer is, absolutely not.  Especially since next week, I'm going to teach them next how to put all the stuff in there- away!
Classical music can appeal to a wide range of people. Picture two back to back grand pianos on the concert stage, a narrator relates the story of the Royal March of the Lion, Hens and Roosters, Quick Animals, Tortoises, The Elephant, Aviary and Fossils, The Swan and more. The gifted, seasoned pianists performed in magical communion: Ruthanne Schempf and Ada Margoshes masterfully portray the animals on the ivories, whilst the Symphony Orchestra accompanies them.
During this concert, in the audience, the mouths of the little ones hung open in wonder and delight. The Greater Newburgh Symphony Orchestra (GNSO), in its most accessible-to-children-mode at Mount St. Mary's Aquinas Hall on January 15 was a delightful reminder that classical music teaches and inspires. A musical suite of fourteen movements (yes, the kids sat through them all, and happily) by the French Romantic composer Camille Saint Saëns exhibited to the kids that music tells a story and can make life better.
Considered a frivolous piece in his time (written in 1886), Saint Saëns wouldn't allow it to be performed until after his death. Thank goodness it premiered in 1922 for the good of all the audiences since then, but especially because music teachers the world over find it most effective in teaching the parts of the orchestra, among other lessons for music education. Along with Prokofiev's Peter and the Wolf, The Carnival of the Animals is a favorite classic for children of all ages.
Parents of children with disabilities are often unsure of where to turn for financial and health care assistance for their children. There are several options available, each with its own qualifications.
Supplemental Security Income, or SSI, provides monthly payments for children with disabilities who are under 18 who meet the government's definition of disability, and who have little or no income and resources.  The amount of SSI that the child will receive varies by state.  To qualify, the household's total income and resources must be below a certain amount, and the child cannot earn more than a certain dollar amount each month.
Social Security Disability Insurance, also known as SSDI, provides benefits to disabled or blind persons who are "insured" by workers contributions to the Social Security trust fund. These contributions are based on the individual's earnings or the earnings of the spouse or parent according to the Federal Insurance Contributions Act (FICA). Title II of the Social Security Act authorizes SSDI benefits. Dependents of those insured under SSDI may also be eligible for these benefits.
Medicaid can provide access to health care to children with disabilities. Some states will approve a child for Medicaid if he or she is already receiving SSI. Other states require a separate application process. However, SSI is not a prerequisite for Medicaid.
Families with slightly higher incomes may qualify for State Children's Health Insurance Program (S-CHIP), which covers a wide variety of health care needs. S-CHIP is a good alternative for families who do not meet the requirements for Medicaid, but who cannot afford to pay for private insurance.
There may be other financial and health care assistance options available depending on your state. If you are a parent who would like more information about financial and health care options, contact an experienced special needs planning attorney.
To learn more about New York elder law, New York estate planning, or New York Special Needs visit http://www.littmankrooks.com.
I've spent most of my life in top physical shape. Two years ago I found myself on the opposite end of that spectrum, when I realized I could no longer shop at a regular clothing store. There was no escaping it, I was obese. I tried several diets including Atkins and South Beach to no avail. Then, a friend gave me a book titled "Eat Right For Your Blood Type", by Dr. Peter D'Adamo, and the sky opened up.
Dr. D'Adamo asserts that your blood type dictates which foods your body is most capable of turning into fuel. Each blood type (O, A, B, or AB) has a distinctive diet in line with that blood type's evolution and history. While the right diet can recalibrate your metabolism, speed weight loss, and provide you with energy you thought only teenagers possessed, the wrong diet can cause a host of health problems, including obesity.
The upshot is I lost 50 lbs in 4 months and now follow the diet about 60% of the time. Many in the mainstream have labeled this diet a fad with no basis in reality. In my reality it works just fine. For more information you can visit the author's website or if you want abbreviated dos and don't s go here.
A good friend of mine recently inspired me to look at cooking in a brand-new way.  As I mentioned last week, I grew up cooking alongside my mom (and grandma), and making healthy food for both myself and my family has always been second nature.  After a conversation with a friend, I was reminded that not only are some people less comfortable in the kitchen, but some are downright uncomfortable.  This realization got me excited, as I thought of ways to help my friend, and others, diversify cooking skills and develop a repertoire of meals.
Along these lines, I've received a number of emails requesting recipes, and asking how I know what ingredients to have on hand, how to pre-plan family friendly meals, and how to find variety so dinner doesn't become repetitive.  I believe that beginning with the right ingredients on hand is one of secrets to being able to make affordable, timely, and interesting meals, along with the confidence to experiment, and perhaps a good cookbook or friend to show you the way.  We'll come back to experimentation later, but for now, learn what pantry basics to include in your cabinet.
Asian coconut soup (with fruit salad)
What you need:
This meal is a perfect example of being able to make something that wasn't difficult, but was adventurous and appetizing.  Thanks to a few choice pantry items, it came together effortlessly, and is versatile in that it can be made vegetarian (with tofu), or become a seafood or poultry dish.   I made it in the crock pot, but it could easily have been cooked on the stove.  I had my daughter sitting on the counter with me, and she helped me add in and stir everything as we cooked.
Combine four cups of chicken broth, the juice of one lemon (about three tablespoons), ½ teaspoon of lemon zest, one (13.5 ounce) can of light coconut milk, ¼ teaspoon of curry, two garlic cloves, and one teaspoon of ground ginger in a pot or crock pot.

Cube one lb. of extra-firm tofu, and one lb. of chicken (if desired, use one lb. of shrimp in place of tofu or chicken), and add to pot.  Slice one cup of carrots into match sticks, and add to pot.  If cooking in crock pot, cook on low for four hours, or high for three.

Cook one package (six ounces) of lo mein noodles, or half a pound of spaghetti, and stir into soup, along with one cup of snow peas.  Cook on low for an additional 30 minutes, and serve.  To make without a crock pot, cook on the stove until the chicken is cooked through and no longer pink.
To find out what's for dinner at our house, please join me here, or become a fan on Facebook. Happy eating!