You are currently browsing the tag archive for the 'Hudson valley' tag.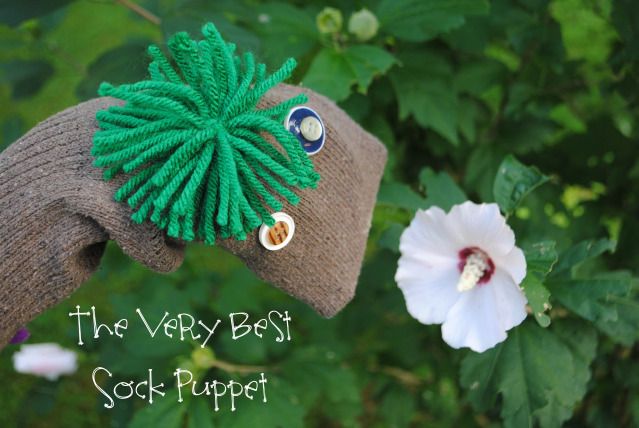 This is a craft recommended for parent and child ages 4 and up.
Sure it's easy to make a sock puppet, but have you ever made one with a perfect hand insert?
I came up with this neat little trick when I was a young teen and have used it ever since when making a sock puppet.
Things you will need…
Socks – Buttons or Googly Eyes – Yarn – Hot Glue – Scissors – Cardboard – Any other face or hair makings of your choice
The first thing you will want to do is cut a piece of cardboard ( I used the wings off a box) into 6 by 3 inch rectangles. Bend in half creating a mouth shape.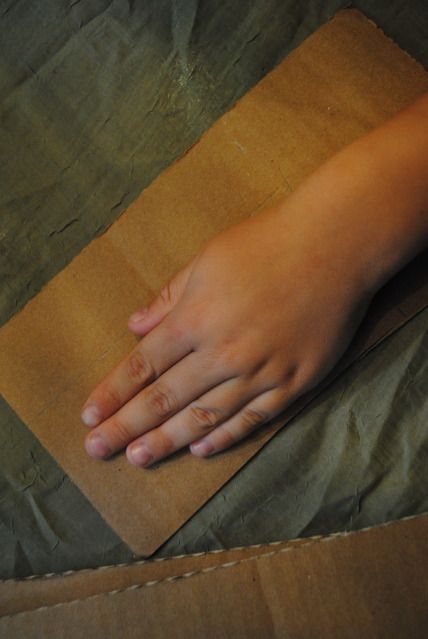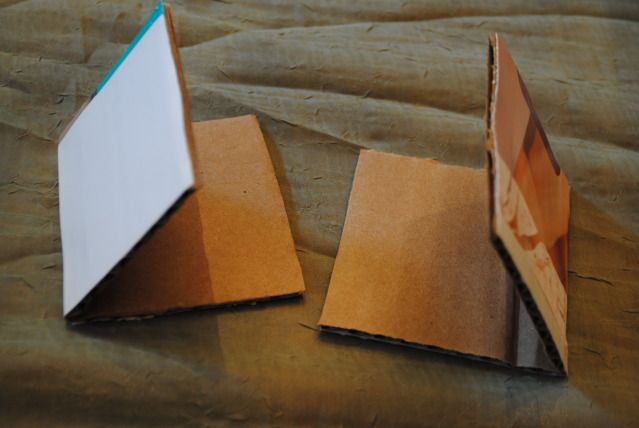 Cut small strips of cardboard. Have your child hold the pre-cut rectangle in their hand as they would hold their puppet and bend strip over their finger as shown to make the needed size… do the same for thumb. Mark on either side of the finger so you can remember where the bend goes.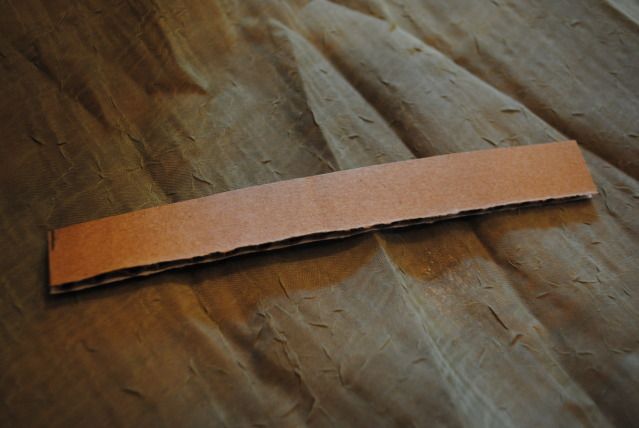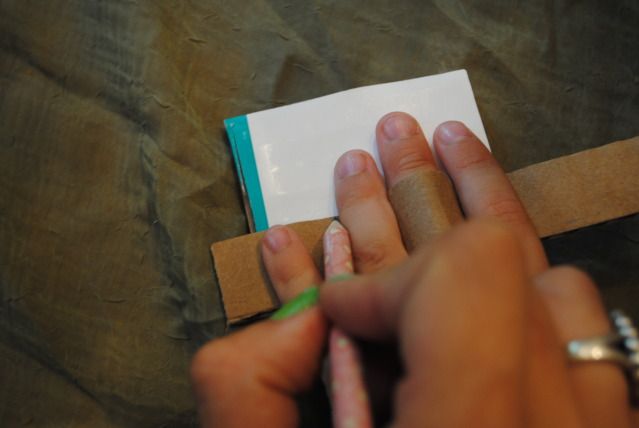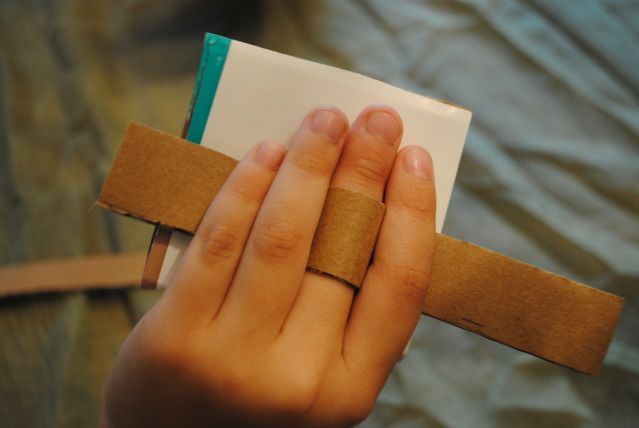 Inside out your sock – This is very important – You want it inside out. This is a parent step so feel free to have your child watch
Hot Glue Finger slots onto the top and bottom of your mouth piece close the the fold where your child's fingers will sit. I recommend not only hot gluing it on, but also reinforcing around each side so it seals a nice strong bond as seen below.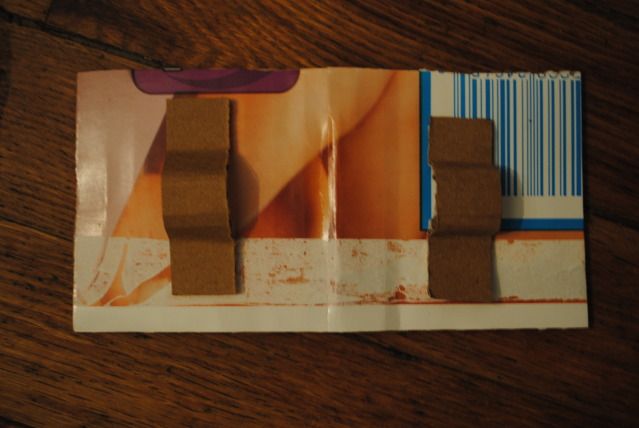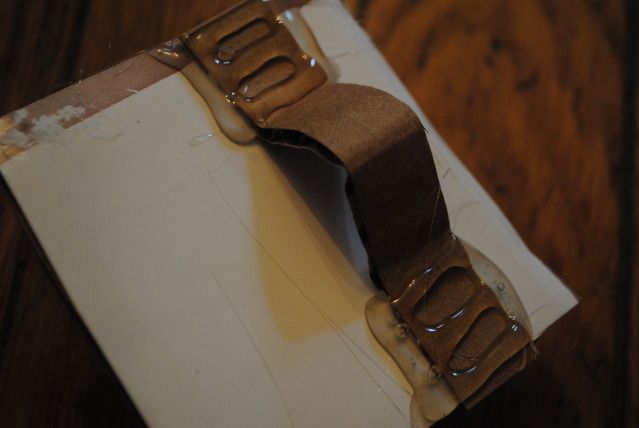 Now, squeeze hot glue onto the inside of one side of the mouth and place sock inside making sure it's smooth. Pull extra sockage out the sides. Repeat on top. What you should have is a mouth piece hot glued on the outside of your sock.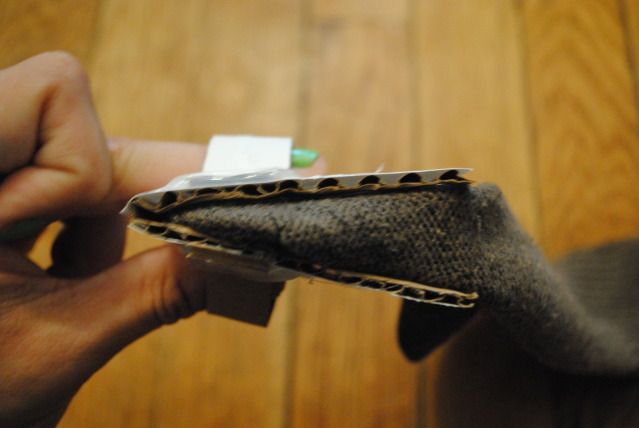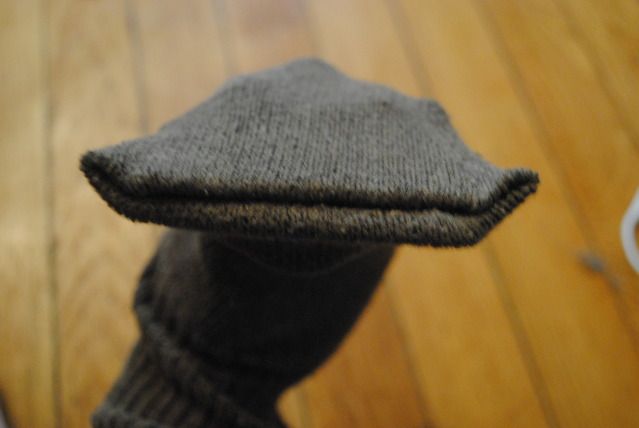 Inside out and pull at corners of mouth a little to form a smile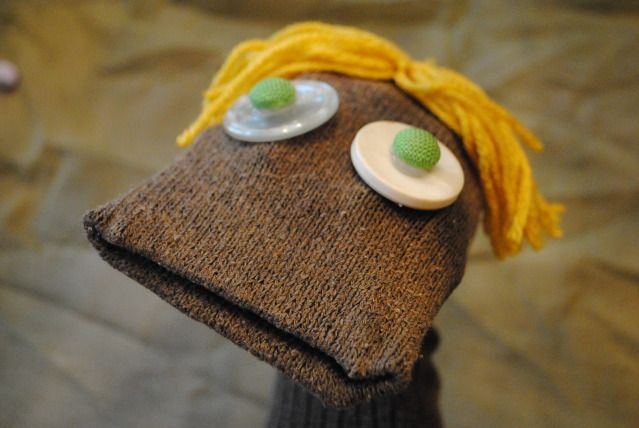 Decorate puppet as wanted and have fun doing it! be creative and silly!
To create a wig for your puppet wrap yarn around your fingers until nice and thick. Tie a small strand around the center and pull tight with a knot. Cut yarn off underside of your hand and then trim as wanted. Leave long, or cut short… your child is the beautician.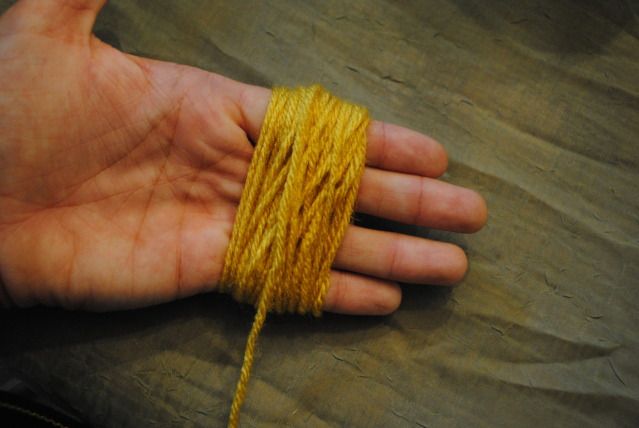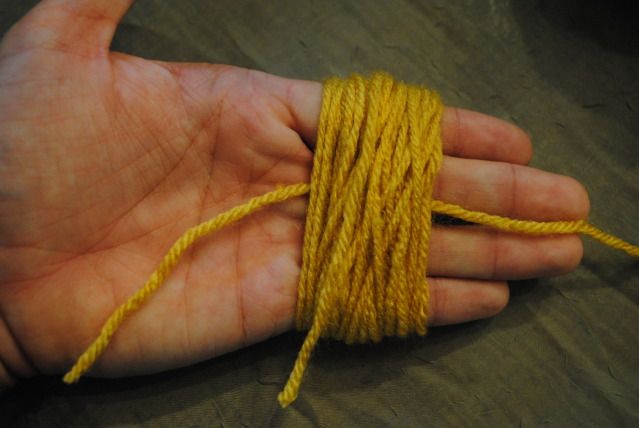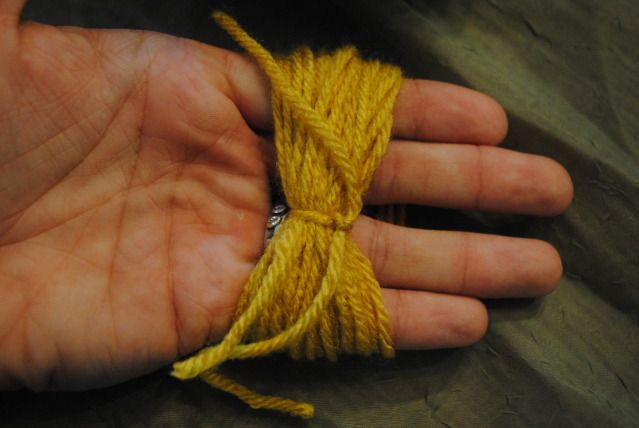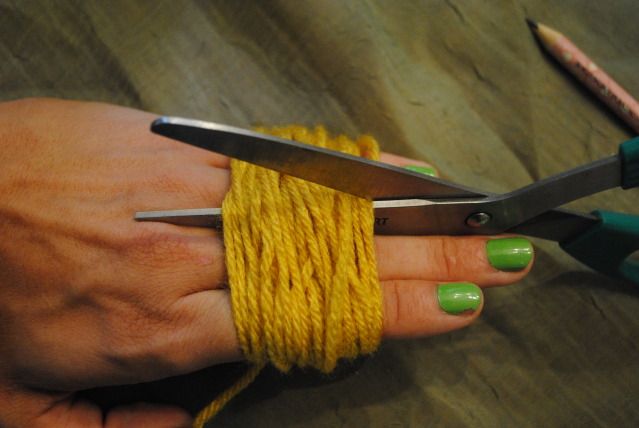 Just about one year ago (almost to the day), I blogged about a new recipe I'd discovered from a fun blog, for zucchini bread pancakes.  This morning, as I stared at a surplus of zucchini, visions of those incredible pancakes stirred in my mind.  Shortly after making those pancakes last year, my family became gluten-free.  Slowly but surely, we've revisited special recipes, one by one, making tweaks and alterations.  As a rule, it's best to find a true gluten-free recipe for something rather than make substitutions to a traditional recipe.  Many do not translate well due to different properties of gluten-free flours, wet-to-dry ratios, and lack of well, gluten.  Certain recipes, however, are unique and beg for experimentation.  I'm pleased to say that this recipe translated amazingly.  Proportionately, there's not much flour, which bodes well for its success.
A summery breakfast
If you're not gluten-free, go straight to the original recipe.  My only change is to use two cups of shredded zucchini.  To make these gluten-free, substitute the one cup of flour for 3/4 cup plus 1 T brown rice flour, 2 T cornstarch, and 1 T tapioca flour.  Make sure your oats are certified gluten-free, and use 1 t xanthan gum.  Follow the recipe as posted above, and enjoy.  We're also mostly dairy-free, and the recipe worked well with almond milk in place of cow's milk, soy-free dairy-free butter in place of butter, and I did use the sour cream because there's no good substitute. Almond milk yogurt might work, but I didn't have any on hand, and it might be too thin.  No matter how you make them, they're incredible.
To share what's new in your kitchen, or find out going on in ours, stop by, or become a fan on Facebook.  Happy cooking!
This was not an easy week.  For those of you who did not catch last week's post, my family and I have recently committed to the GAPS diet to help heal damage caused by celiac disease.  The beginning of a positive shift is often the easiest, as motivation is high, the change is fresh, and the honeymoon period of improving your life for the better is exhilarating.  Once the newness wears off, challenges arise.  Whether someone has started a new exercise plan, changed eating habits, quit smoking, or any other lifestyle change, motivation and desire to stick to the goal waxes and wanes.  It's best to set up some reinforcements and contingency plans in advance, and rely on them as needed.  Some important reinforcements are social support, information, and patience.  I have relied on a great friend who has made a very similar commitment and understands what we're going through.  She listens to vents and complaints, and responds with suggestions and gentle nudges toward acceptance.  The internet is always a great place for any kind of support, and I've made a number of friends online who have also been down this road and provide insight.  Surprisingly, I've even made some friends whose journey resembles ours of a few months ago, and I've been able to provide support to those individuals.  I've found it motivating not only to receive support, but to give back to others and know I'm paying it forward.
Knowledge is also motivating.  Each time I feel my commitment diminishing, I spend some time reading about the many benefits of this lifestyle change.  It reminds me of the importance of prioritizing health.  I also find recipes, tips, and ideas.  Favorites we've enjoyed thus far:
Zucchini noodles (these can be enjoyed by most anyone)
space
Peanut butter squash "brownies" (tasted just like pumpkin bread)
space
(Grain-free!) Banana blueberry waffles (based loosely on this recipe)
Next up on my list are butternut squash fries, which sound similar to sweet potato fries (who doesn't love those?) and cauliflower "rice."  We've also gotten good at making bone broth.  It's surprising easy to make, and there are many benefits to it, whether you are feeling well or looking to improve health.
Finally, patience with oneself is key.  Chalk it up to my time spent working in the substance abuse field, but any new change must be taken one day at a time.  Even my husband keeps asking, "So how long do we need to do this?" and my answer is, "Let's take it day by day."  I'm a plan-ahead gal down to the most minute detail, but at some point it's essential to let go.  Planning a change that will last "forever" (or for any relatively long time period) is daunting and overwhelming.  Those who stop smoking may not be able to envision never lighting up another cigarette, but they can probably agree to withhold for the remainder of the day.   The next day will bring new opportunity and often renewed strength.  I find it best to plan out only a few days at a time, and let things fall into place.  Adjustment happens over time.  Any new habit takes two to four weeks to form, and bolstering oneself with support and knowledge will make that time less painful.
As always, I welcome hearing from anyone who has ever, or who hopes to, make a significant lifestyle change.  I'm not gonna lie… it ain't easy… but may the payoff be a fair exchange for the sacrifices along the way.  The face of my blog is changing, and I welcome you to visit, cheer us on, share your experiences, and broaden the support we can all offer one another.
Before I can even talk about what my family is currently doing, I have to first say that I strongly dislike the word "diet" and all of its connotations.  To me, the word "diet" is so overused in our culture, and carries with it such negativity.  It typically implies superficiality, and the desire to lose weight without attention to health.  Especially given my years of studying eating disorders and working with individuals suffering from them, I cringe when I hear someone "on a diet," especially children.  To take it one step further, I've never believed in any of the faddish low-carb diets, as I've always known that the best path to improving one's health is through long-term, sustained lifestyle changes, and not a quick fad diet to be followed for a brief time.  So when I use the word "diet," I really mean "meal plan" or "lifestyle."
That said… my family is currently on the GAPS "diet."  It's a structured plan designed to heal medical conditions (in our case, leaky gut caused by celiac disease) and its origin is medicinal in nature.  It's drastic, and the idea of it took some getting used to.  The concept is to remove anything harmful or inflammatory from your diet, and allow your insides to heal.  Basically, GAPS is a grain-free, sugar-free, dairy-free, whole-foods-only diet.  Lots of cooked veggies, fruits, chicken, nuts, seeds, and eggs.  And if that doesn't sound restrictive enough, we're doing a modified intro, which means you begin following the diet by eating meals consisting of only of a homemade bone broth filled with cooked meats and vegetables.  While we are not eating anything unpleasant, at all (I actually love veggies, fruits, eggs, and chicken) it's more of what we can't eat that's the adjustment.  Anything you can buy from the store that is pre-made, packaged, or comes in a sealed container, jar, or can of any sort is off-limits.  Shopping for GAPS means leaving the store with raw meats or poultry, a carton of eggs, and fruits and vegetables.  It's lots of cooking, making broths, and adjusting.  We've been gluten-free and quasi-dairy-free for seven months now, and even that lifestyle is a walk in the park compared to GAPS.
The reason I share our current journey is that I could not have gotten to where we are now without the help and guidance of others who have been down this path before us.  I have one close friend who is my gluten-free, grain-free guru, and I've spent countless hours reading articles, books, and blogs to find our way.  The more I talk to others, the more I have find so many people who are affected by gastrointestinal upset, headaches, arthritis/inflammation, asthma, allergies, Autism/Asperger's, and so many other complaints.  Shockingly, so many of those ailments can be addressed through purposeful detox and diet (well, lifestyle change, but you know what I mean).  I've made many friends in cyberspace who have been where we are, and give a glimpse of what is to come.  It builds hope.  I welcome anyone who is not feeling quite right, or who knows someone who isn't feeling quite right, to look into the possibility that there is a bigger picture, and a possibility that changes in lifestyle could bring surprising relief.  I'd love to talk to anyone who's been down this road before, or considering it now.
To see what's happening in our kitchen, or to share what's going on in yours, please stop by, or become a fan on Facebook. Happy (gluten-free) cooking!
All the best.
I don't know about your family, but mine comes home starving every day from school and work.  We tend to eat dinner early (typically 5 or 5:30) so an after-school snack at 4 pm could easily ruin dinner.  However, it's hard to keep my daughters (and husband) out of the kitchen, and I can't help but feel annoyed to see them snacking as I'm making dinner.  I've found putting out a plate of veggies or fruits and dip satisfies their snack cravings and is something I don't mind them eating.  If you enter the house at the same time as your hungry spouse and kids (or if you are that hungry spouse!) it can be made the evening before and taken out of the fridge as you walk in the door.
Veggie platter
Quite simply, I fill this sectioned tray with veggies or fruit, and put salad dressing or yogurt in the middle.  On this occasion it was snap peas, red peppers, carrots, celery, zucchini, and cucumbers; but other times it's baby spinach, cantaloupe, grapes, watermelon, or whatever my family enjoys.  Cover it with plastic wrap and have it ready for whenever your family needs it.  Even if the kids don't eat their vegetables with dinner, they'll have gotten a head start.  In fact, many kids are more likely to eat fruits or veggies as a snack than if it was on their dinner plate.
To see what's happening in our kitchen, or to share what's going on in yours, please stop by, or become a fan on Facebook. Happy (gluten-free) cooking!
One question I get asked often is how I get my daughter to eat such healthy school lunches.  Her eating habits didn't begin when she entered school, though, they began when we first introduced solids.  We fed them what we ate.  Nothing fancy, no "baby food" recipes; just plainer, mashed up versions of our own dinners.  I know there are lots of kids' convenience foods out there- those made-of-air puffs, special veggie drinks, jars of "toddler" food, animal shaped chicken nuggets, and the like.  However, many "kid foods" are fried, made of refined flour, and have lots of added sugar.  I've had more success with serving "grown-up" foods in a palatable fashion (fruit on a stick, veggies laid out in the shape of a flower) than relying on foods marketed for kids.
When my daughter entered school, I found a fun bento-box style lunchbox.  It gives her food a fun feel, and allows me to neatly include each food group without it "touching."  This
particular box
 even came it's own stainless steel fork and spoon, lids so that wet items keep to themselves, and a mini container for dips or dressings.  Quickly, she and I were both surprised at how different her foods were from that of her friends.  While peers have asked her why she eats "green leaves" (baby spinach) and "green seeds" (edamame), I'm happy to say that she enjoys what I give her, without complaint.  While kids can go through picky phases (both of mine have) I've found that if you continue to offer them what you want them to eat, they'll eat at least some of it, at least some of the time.  School lunches are no different.
School lunches
This school lunch is fairly basic and kid-friendly, but could easily satisfy an adult (in fact, my husband's lunch for this day was identical, and yes, I packed that too!).  She asked for peanut butter and jelly, but it's on a brown-rice wrap.  Soy yogurt meets her calcium needs, while grapes and sugar snap peas cover fruits and veggies.  Other days I've included pasta salad, leftover chicken, cheese and crackers, hard-boiled eggs, cottage cheese, or rolled deli turkey.  Cucumbers, baby spinach, carrots, or red peppers can stand in for the veggies, while cut-up apple, orange, or even mango fill in as fruits.  Knowing your child and what he or she will like best is essential, but you may be surprised to see what kids will eat when they're out of the house, and hungry.
Kale is one of those vegetables, similar to collard greens, that I always intend to incorporate into our meals but can never find palatable ways to do so.  Other than slipping it into soups (and I can't get my family to eat soup as a main course too often) I'm at a loss.  I always hear that kale chips are a great way to transform kale into something delightful, but my last attempt was more like disappointing.  They came out terribly bitter, and my husband swears they made us sick afterwards.  I held off on trying again, but they were on sale last week, so I took it as a sign.  I decided to do some thorough research and give it another go.
Basically, what I learned is there are two essential steps to getting kale chips just right, and I unfortunately did neither the first time I made them.  Cutting the leaves off the stems (which are the source of bitterness) is essential, as is thoroughly drying the leaves before baking, so that they get crispy rather than soggy.  This time I was diligent, and they were perfect.  I took step by step photos as I went along so the process would be easy to replicate.  The methodology I followed came from Real Food Digest.
Making Kale Chips
First, put the entire bunch of kale in a strainer and wash well, paying attention to dirt that can get trapped between the stem and leaves.  Even though you'll next do some trimming, it is easier to wash the leaves as whole pieces.
spacer
Next, trim the leaves off the stems, staying as close to the stem as possible.  Then rip the pieces into chip-sized bites.  I wasn't quite sure how to get a photo of myself in action, but my four-year-old took this photo for me, budding photographer and chef that she is.
spacer
When you're done trimming, your stems should look like this.  We tossed them in the compost.
spacer
Next (this is a really important step), spread them out on racks (like the kind you use to cool baked goods), and pat them very, very dry.  Then let them air dry for as long as possible. I did this a few hours before I was going to bake them, and left the nearby window open.
spacer
Once they're dry, put them into a bowl, and season and massage them.  Yes, massage them.  My kids thought it was hysterical.  The concept comes from KB/Superhero, and it was the funniest thing I came across online while researching kale chips.  KB said, "Now it's time to give the kale an intense massage.  Pretend your a Swiss masseuse and you're taking out your frustrations on a Wall Street jackass.  Really let him have it.  Massage that dressing into the kale."  (In this case, I massaged in one tablespoon of olive oil, then I sprinkled them with one teaspoon of kosher salt once they were on the baking sheet.  They can be made them sweet, savory, or however you like them).
spacer
Next, spread them onto however many baking sheets you need to not have leaves overlapping (I needed two large baking sheets).  How you bake them seems to be another key component. Some websites recommended quick, high temps to crisp them, whereas others recommended longer, lower temps to dry them out.  I went with the latter, and baked them at 250 for 35-40 mins, rotating the trays halfway through.  Keep close to the oven and check them after 30 mins, so you can monitor when they get crisp but before they burn.  Taste one and you'll know if it's done.
spacer
Done, they'll look crisp and dry, and are crunchy.
spacer
Finally, serve alongside a casual meal.  We had ours with tomato/turkey bacon/grilled cheese sandwiches, and oranges.  After dinner, I brought my daughter to dance class and my husband stayed home to handle clean-up.  I was sad, although not surprised, to find out the kale chips were completely gone when I returned.  I'll consider that a good thing.
spacer
To see what's happening in our kitchen, or to share what's going on in yours, please stop by, or become a fan on Facebook. Happy (gluten-free) cooking!
It's nice to have a simple, versatile side dish to accompany a family meal.  Kids (and many adults!) can be picky about vegetables, so having a few options in your repertoire can't hurt.  I've recently discovered Pinterest, and was delighted to find a plethora of new recipes to try.  This recipe was one of my Pinterest finds, although it originally comes from allrecipes.
A verstile side dish: Zucchini and Potato Bake
This recipe, Zucchini and Potato Bake, is pretty self-explanatory, and for once, I didn't make any changes.  (Wait, have I ever said those words before?  Probably not).  I did use gluten-free breadcrumbs I'd made; tailor that to your dietary needs.  Although I often use glass baking dishes, I used a cast-iron enamel pan (which happens to have been passed down from my grandmother- she said she got it as a wedding gift) and it crisped up the potatoes nicely.  Try this one out, and feel free to spruce it up (I considered adding some fresh herbs or spices, but decided not to since it was the first time I was making it).  My kids did like it, although one daughter picked out all of the zucchini, and the other picked out half of the zucchini and red peppers.  Continual exposure can't hurt, though, and you pick your battles.  If your family has preferences for one kind of vegetable over another, substitutions are worth trying as well.  For us, this dish went well with turkey burgers, carrots, and fruit.
To see what's happening in our kitchen, or to share what's going on in yours, please stop by, or become a fan on Facebook. Happy (gluten-free) cooking!
Recently, I woke up at 3 am and couldn't fall back to sleep.  Overachiever that I am, I decided to get up and get some things crossed off my to-do list.  I threw in a load of laundry, emptied the dishwasher, and suddenly the words "crockpot pancake" popped into my head.  A while back I'd seen a recipe for making a giant pancake in the crockpot, and I'd stored it away in my memory for a morning when I was up early enough to give it the time to cook, or some afternoon when I was planning breakfast for dinner.  It takes two hours to cook, but since it was 4 am at that point, it seemed perfect. It was.
A giant crockpot pancake
The idea comes from my favorite crockpot site, and the pancake recipe comes from a great gluten-free cookbook.  The crockpot directions state you can use an 18 oz. pancake mix (and the corresponding ingredients it would require, such as eggs, oil, milk) or your own ingredients.  I had a recipe for gluten-free pancakes, so I doubled it, assuming that'd be about the right amount.  I'll share the recipe here, or feel free to use a mix or your favorite recipe.  Of course, this can be gluten-free, even dairy-free, or neither, depending on your needs.  The beauty of this one was that it literally cooked itself, and I was free to go on my merry way and fold socks.  At 5 am.  I know, I need help.
4 eggs
1 ½ c. flour (brown rice flour if you're gluten-free)
2 T. baking powder
½ c. oil
½ tsp. salt
4 T. sugar
1 ½ tsp, xanthan gum (omit if using regular flour)
1 tsp, vanilla
2 c. milk (dairy-free, if you desire)
1 c. blueberries (I added this; you can swap in another fruit for sure)
This is the doubled recipe- halve it if you're just using it to make pancakes.  Combine, mixing well.  Pour into greased crockpot.  Cook on high for two hours.  Edges will be slightly browned, and middle will be firm. Do not overcook.
When my family finally rolled out of bed at 6:30 am (lazy-bones!), they were excited to find a beautiful "slice" of pancake ready to eat.  It came out thick, fluffy, and had the perfect texture.  The clean-up was minimal, and it tasted really good.  We'll definitely make this again.
To see what's happening in our kitchen, or to share what's going on in yours, please stop by, or become a fan on Facebook.  Happy (gluten-free) cooking!