You are currently browsing the tag archive for the 'kids' tag.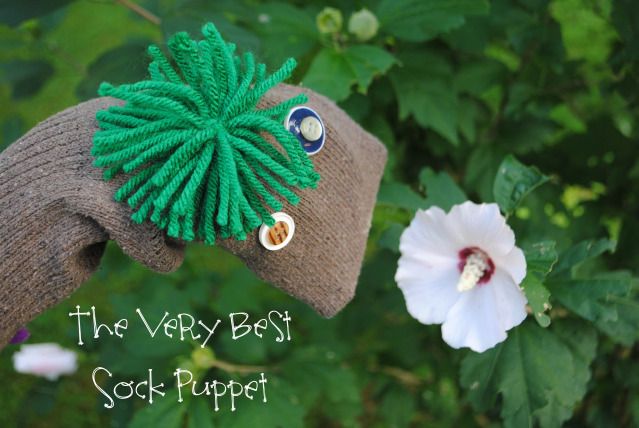 This is a craft recommended for parent and child ages 4 and up.
Sure it's easy to make a sock puppet, but have you ever made one with a perfect hand insert?
I came up with this neat little trick when I was a young teen and have used it ever since when making a sock puppet.
Things you will need…
Socks – Buttons or Googly Eyes – Yarn – Hot Glue – Scissors – Cardboard – Any other face or hair makings of your choice
The first thing you will want to do is cut a piece of cardboard ( I used the wings off a box) into 6 by 3 inch rectangles. Bend in half creating a mouth shape.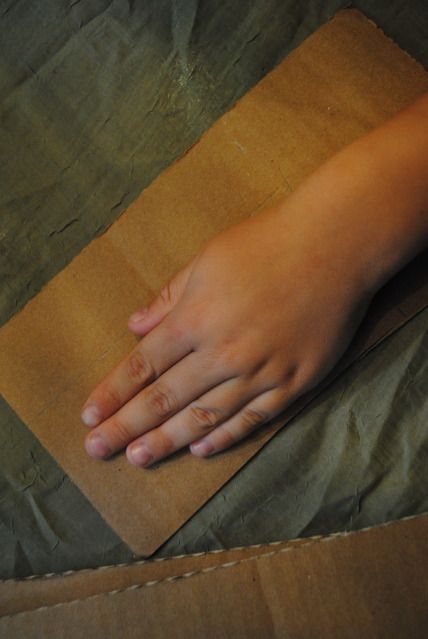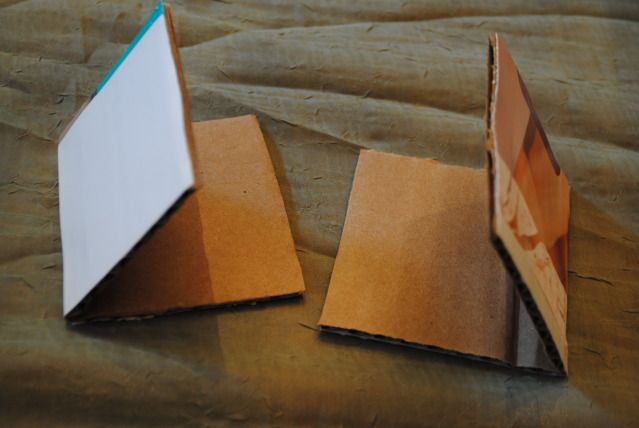 Cut small strips of cardboard. Have your child hold the pre-cut rectangle in their hand as they would hold their puppet and bend strip over their finger as shown to make the needed size… do the same for thumb. Mark on either side of the finger so you can remember where the bend goes.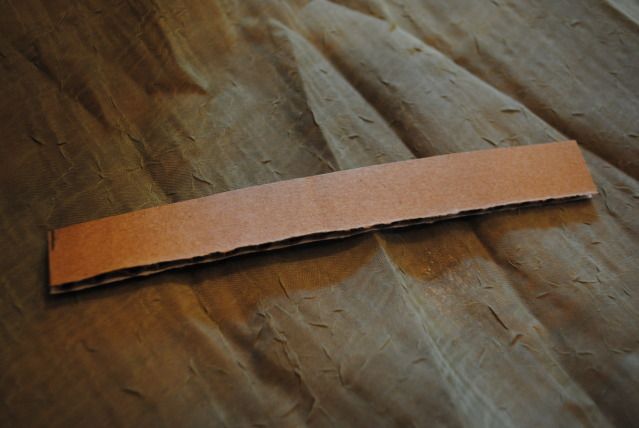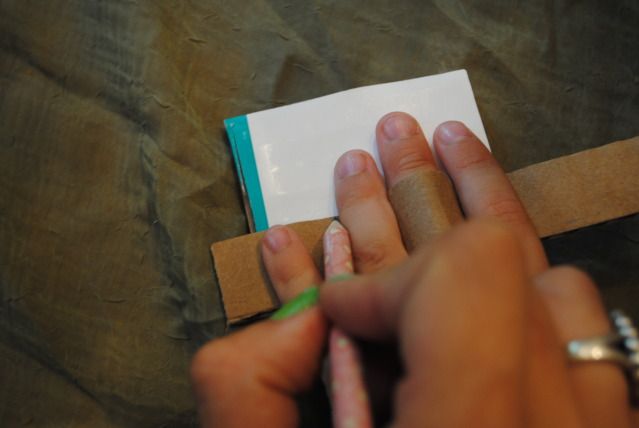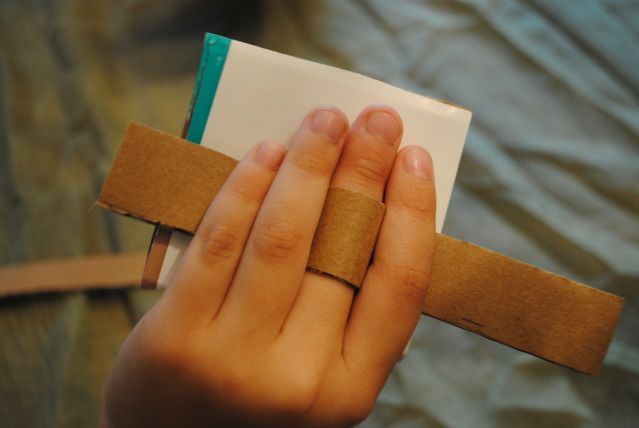 Inside out your sock – This is very important – You want it inside out. This is a parent step so feel free to have your child watch
Hot Glue Finger slots onto the top and bottom of your mouth piece close the the fold where your child's fingers will sit. I recommend not only hot gluing it on, but also reinforcing around each side so it seals a nice strong bond as seen below.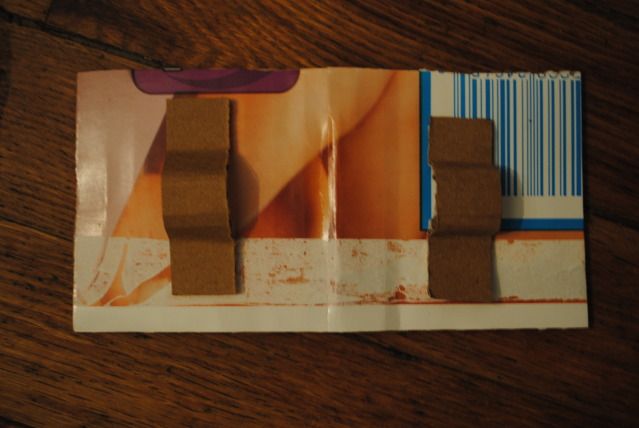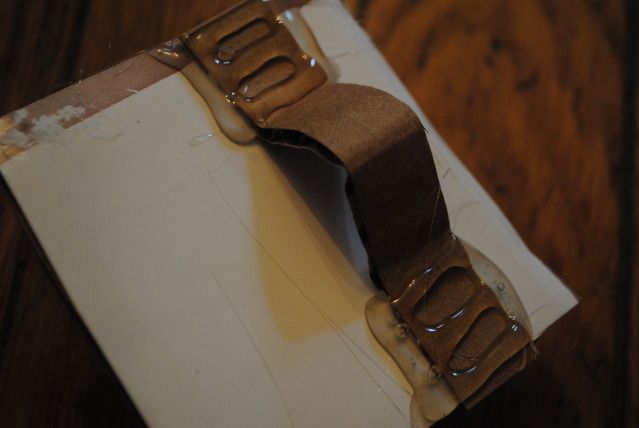 Now, squeeze hot glue onto the inside of one side of the mouth and place sock inside making sure it's smooth. Pull extra sockage out the sides. Repeat on top. What you should have is a mouth piece hot glued on the outside of your sock.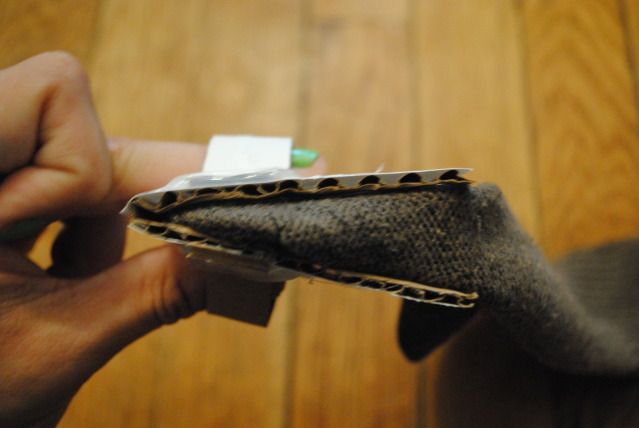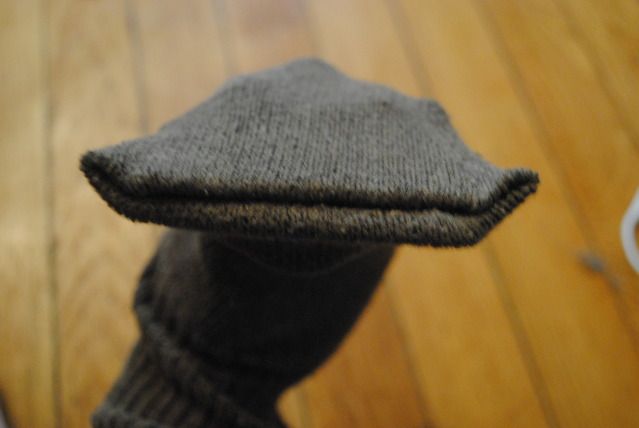 Inside out and pull at corners of mouth a little to form a smile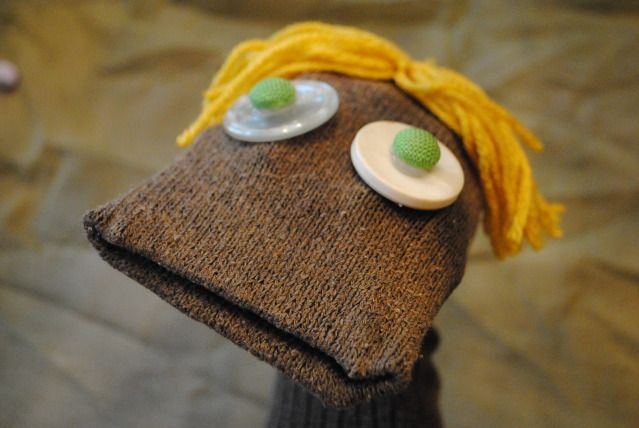 Decorate puppet as wanted and have fun doing it! be creative and silly!
To create a wig for your puppet wrap yarn around your fingers until nice and thick. Tie a small strand around the center and pull tight with a knot. Cut yarn off underside of your hand and then trim as wanted. Leave long, or cut short… your child is the beautician.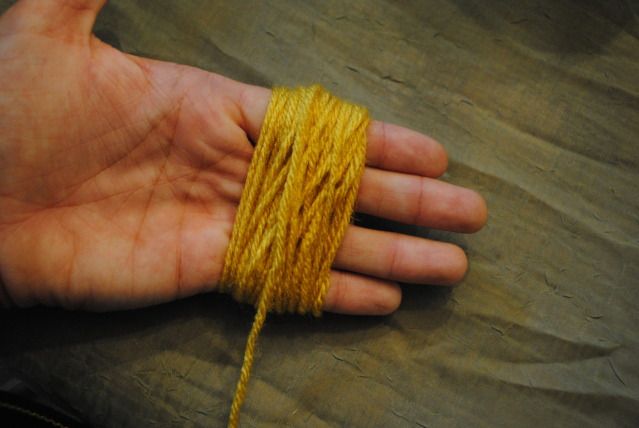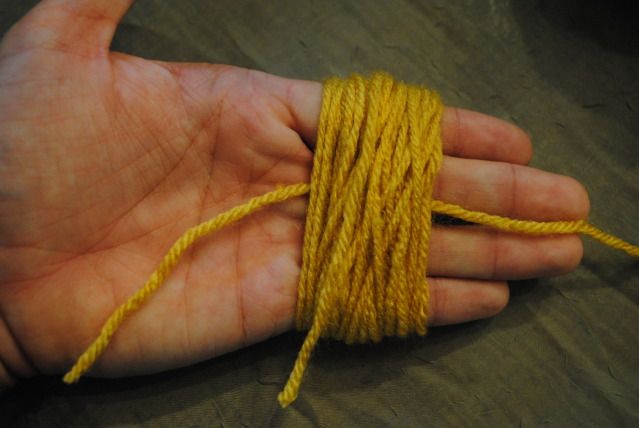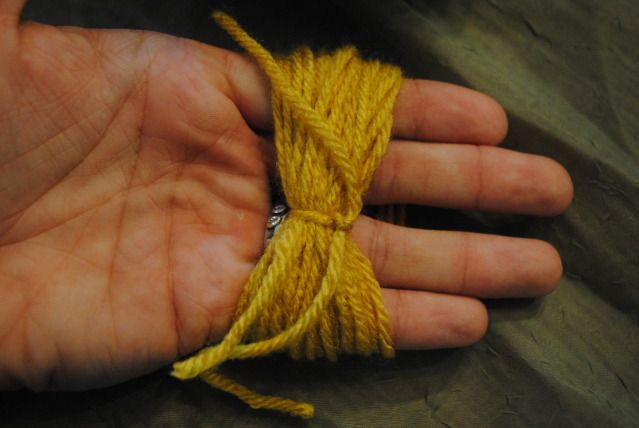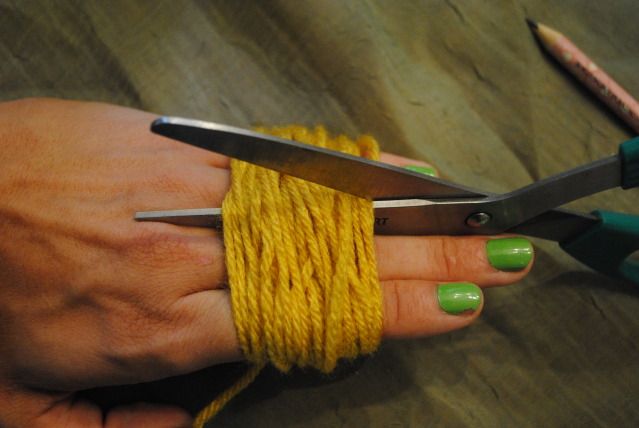 This is a fun project full of hands on and parent/child collaboration. There are a lot of parent steps, but your children will be more than happy to assist you and watch as the project goes on. Recommended for ages 4 and up. Make these now so you are ready for your 4th of July weekend! it's coming faster than you think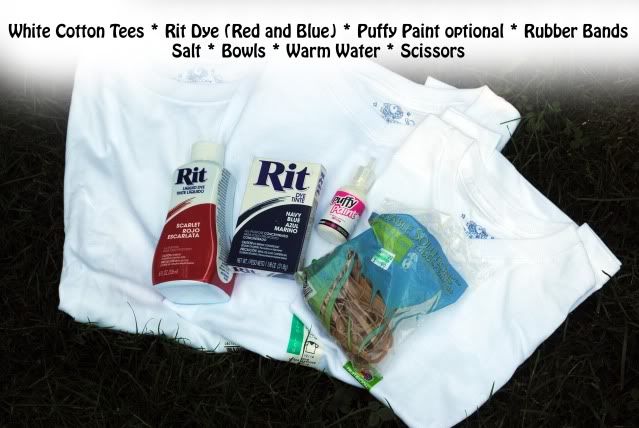 Step # 1  Rubber band both sides of your shirt as to define a bottom, middle, and top. Cut both ends off of a walmart bag… the handles and the bottom so that you have an open plastic "tube".
Place tee inside the tube so that only the middle is inside with both bottom and top of tee hanging out.
Roll your tee inside the bag up tightly. Fold down ends of bag so that they are directly over the rubber banded tee area and rubber band again over top. This insures that no dye will get into the middle section of your tee.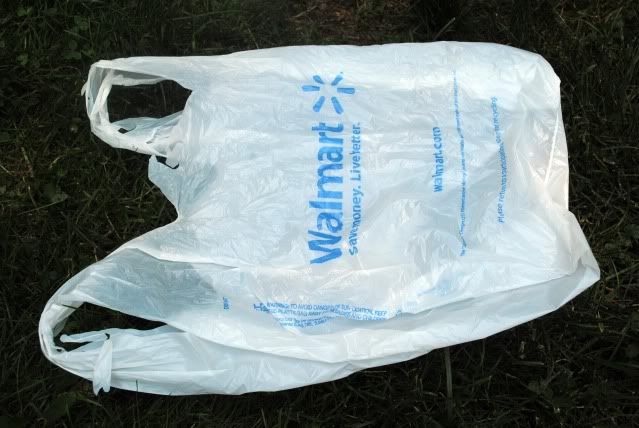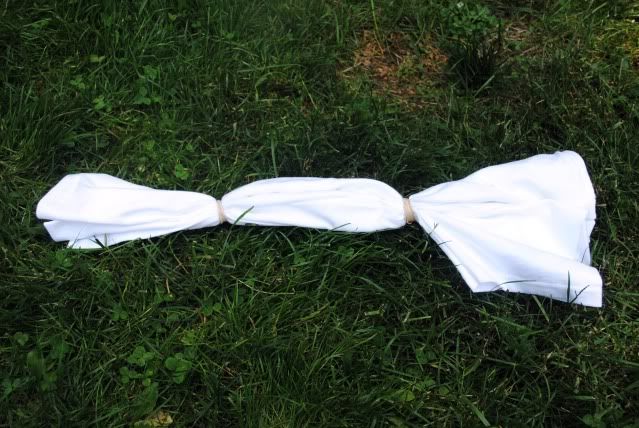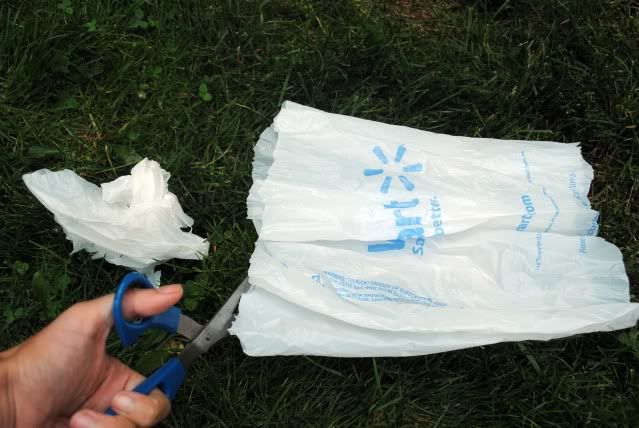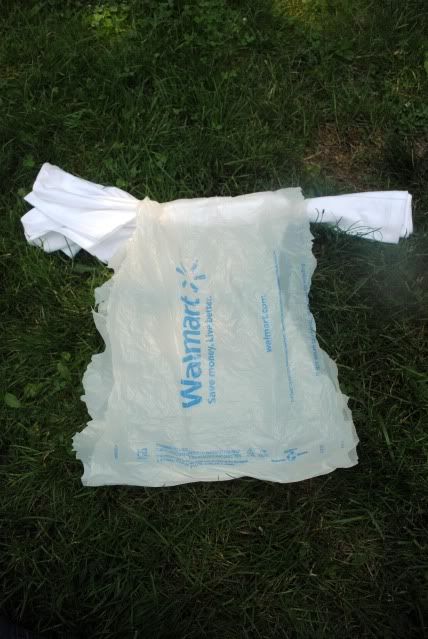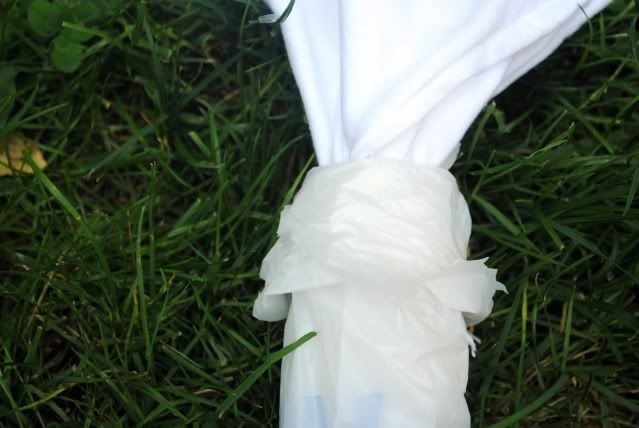 Step # 2 rubber band the top of and bottom of the tee in any way you would like. You can evenly space the rubber bands one after another which would make stripes, or you can pinch pieces of your fabric up which would make firework type patterns. You may be asking at this point what your children are actually doing… I had my children count with me each time I wound the rubber band so that they felt involved and could practice their numbers. My 6 year old could do the rubber bands himself with just a little assistance. I also had them hand me the rubber bands and choose weather they wanted stripes or firework patterns.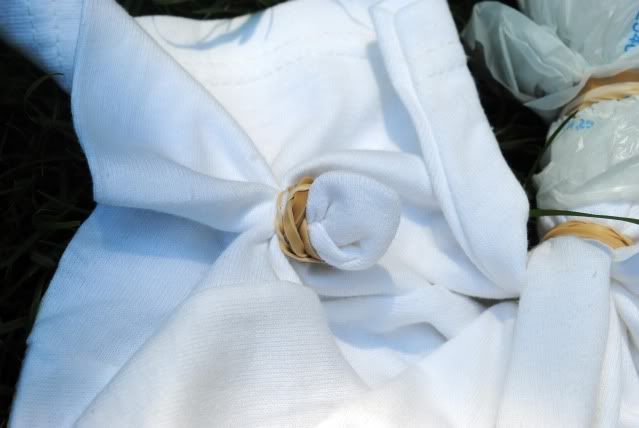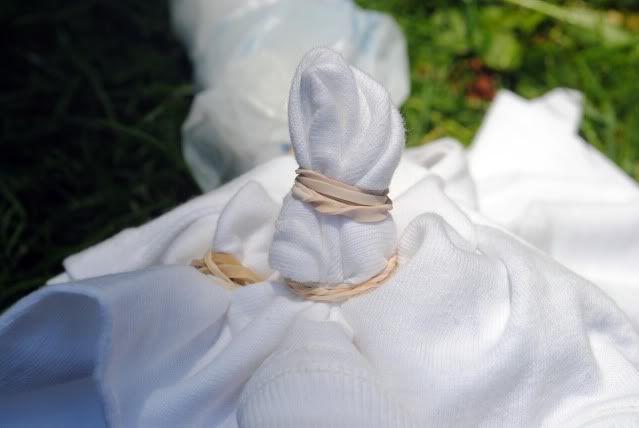 Step #3 pour half your container of RIT dye into a bowl, if you have powder only use half of the box. Add 1/2 cup of salt to each bowl. Mix these with hot water and stir. Let your child do the stirring.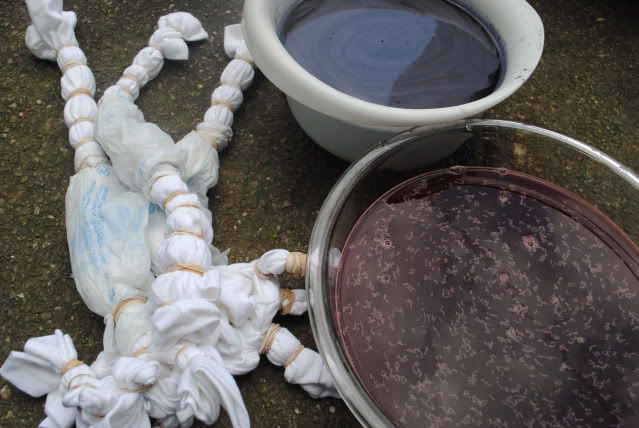 Step #4 Let your child hold their tee like a upside down "U" shape and put the bottom in the blue bowl and the top in the red bowl. Let sit for 5-10 minutes.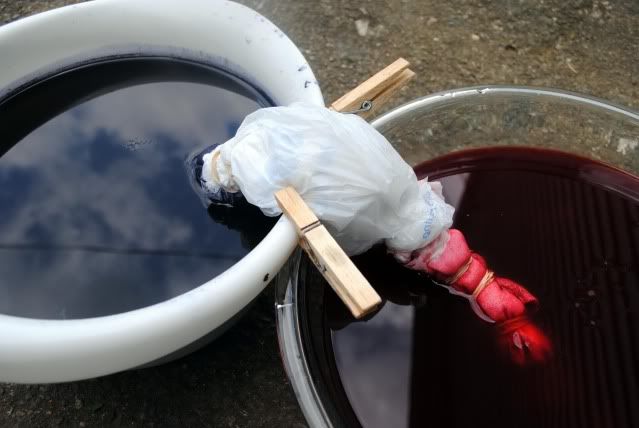 Step #5 Pull tee out of the dye carefully and squeeze out on an open laid out trash bag, then move over and lay onto another trash bag as to not put it into the colors you have squeezed out.
Take care here not to mix colors.
Your children can wear plastic gloves and help squeeze their tees. I used another walmart bag.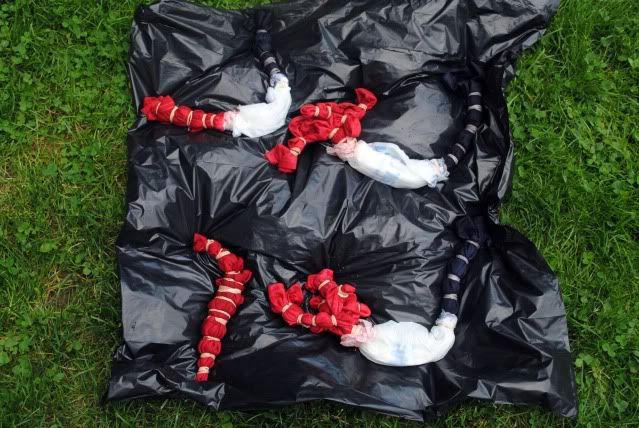 Step #6 Rinse in warm water each side separately until they run almost clear.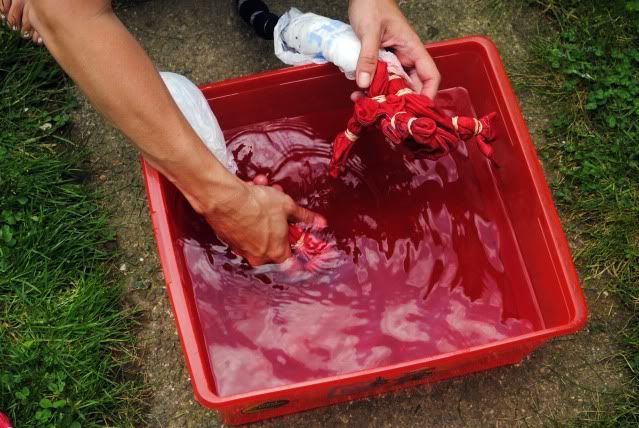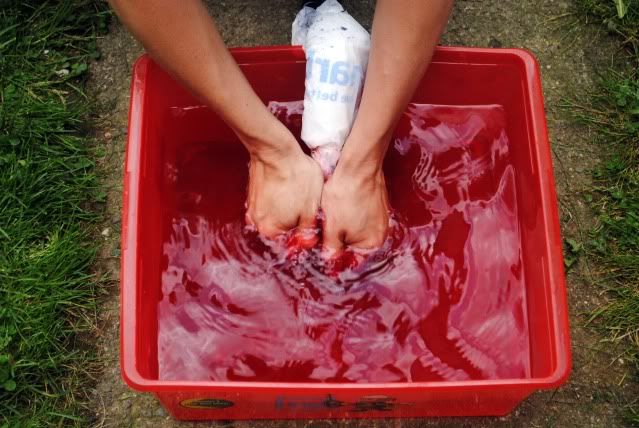 Step #7 Do not cut off rubber bands yet or your plastic bag. Hang on a line to dry. When mostly dry (damp) cut off your rubber bands, open tee, and hang to complete dry. When completely dry wash in your washing machine each separate tee on cold.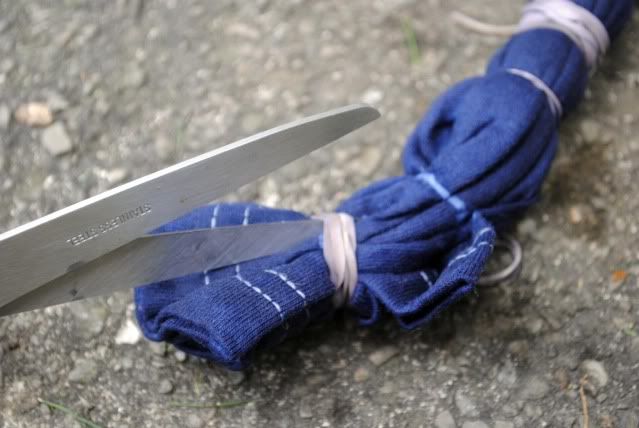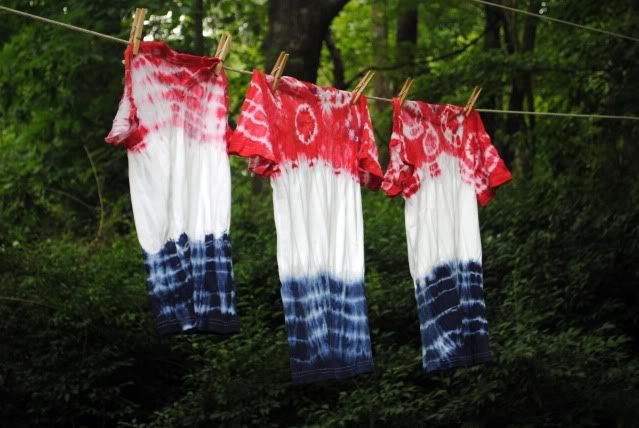 Step #8 Optional Step… if you want, here you can cut a sponge into a star shape and let your child puffy paint stamped white stars onto their shirt. This is great if your child wasn't able to participate enough in this project or if you wanted to do this ahead of time for your younger children and then present them with the tee to decorate.
Don't forget to praise your children as they help you with this project. Completing projects and helping out, builds good self esteem. Smile, laugh, and have fun!
How many times have you heard your parents say that? How many times have you said that to your children? What does it really mean anyway? On Saturday my two boys Travis 14 & Nyim 9 were playing around and the phone rang, Nyim answered and it was a friend of Travis', Instead of getting on the phone and telling the child he was busy or was not in the mood to talk, he told my 9-year-old to tell the boy on the phone that he was not home. I overheard it and got annoyed that Travis asked his brother to lie for him (as trivial as it sounds). Travis understood and said he would not do it again. Okay Mommy…Job well done. Well not so fast! My 9-year-old then turns to me and says…"Mommy you make Travis lie for you all the time" GASP!! I do know such thing…."uh huh sometimes when Auntie Jackie calls you tell Travis to say you are sleeping , when Grandma calls you say tell her you are at the store when you are really still sleeping…When people knock on the door sometimes you say "you are the baby sitter" OKAY "enough already". Quick I need a way out!! Does the do as I say not as I do (get out of a situation free card) come into play here? I told both of my boys that lying is no good ANY lie is no good. I also told them that I will no longer ask them to lie for me and lying in any regard in no good. shouldn't what I say be the same as what I do? Shouldn't I practice what I preach? Or should it be do I as I say not as I do…because I brought you into this world and I can take you out? Being a Mommy is hard work!!
By: Terrie Goldstein, Publisher  Orig. Date: 12/20/2007
Do you ever fly off the handle when you get frustrated?
I remember when my kids were younger and I took my first job. I thought I had everything perfectly arranged for my kids after school care. Then the first snow came early and it came with a vengeance. Schools closed early. Buses were late. Nothing worked right. When I got home I stomped up and down the stairs in frustration not sure where to turn.
Luckily I had two older neighbors who lived close, one across the street, the other behind our house. Their grandchildren lived far away so they adopted my kids. I could call them and they would be there when the boys came home, whether it was early or late.
Now that my boys are grown with their own children, I look at the young parents in the supermarket checkout line. They are rushing to pick up their kids from school and then they are off to the supermarket for food for dinner. The kids want candy, cookies and everything that will ruin their appetite. Mom screams, "No. You can't have that" and her child cries.
I often say to myself, "What should I do?" I usually keep life savers and silly erasers in my pocketbook for when I take care of my grandkids, but I know kids are taught not to take anything from strangers.
Now I try a simple solution. I turn to the mom and say, "Sometimes it's just a bad day. Is there anything I can do to help?" Most times, it breaks the tension in the air and things calm down.
With our severe slump in the housing market resulting in a credit crisis, Wall Street is trying to determine if we are in a recession, where it costs more to buy less. According to Alan Greenspan, who headed the central bank for 19 years, growth in the current October through December period is expected to have slowed to a feeble pace of just 1.5 percent, or less.
If things get tougher, you will see more frustration on the supermarket checkout line. Just remember a few simple lines: "Sometimes it's just a bad day. Is there anything I can do to help?"
This continues to be a very hectic time for me, especially in business. A number of employees moved … one went back to school, one moved to another location and one moved to a different company. So we are hiring. And then we are creating a new online community source for you, our current readers of both Hudson Valley Life and Hudson Valley Parent magazines.
Our Hudson Valley Life site will be unveiled at the end of this month. We continue to stretch ourselves, always seeking the best story, finding the greatest places for you to visit and researching what's hot and what's new in the region.
But as I sit at my desk on Saturday morning, side-by-side with two of my staff, I get a call. "Hi grandma. It's me." That's my two-year-old granddaughter giving me an early morning hello. My face lights up and I smile.
               "What are you eating?" I ask. 
               "Strawberries." 
               "How many did you eat?"  
               "One, two, three, four, five, six," replies Lia.
The world has not changed because of the dialogue between Lia and me, but it means the world to me to listen and watch my son and daughter-in-law bring up another generation that will lead us out of the muck and mire that we find ourselves in.
Sarah Ludwig Rausch is a mom of four and a freelance writer. Sarah specializes in parenting, children's health, agriculture and family issues and writes a blog, "Parenting By Trial and Error." She's written for The Christian Science Monitor, The Progressive Farmer, Farm Industry News, Singapore 's parenting magazine Motherhood, and a variety of other publications.
 
When the girls were younger, say 4 or 5, we gave them an allowance of 75¢ a week. 25¢ for spending, 25¢ to save and 25¢ for church offering. Now that they are nearly 10, we've increased it to $3 per week, with the same principle – $1 for spending, $1 to save and $1 for church offering. When the allowances actually get paid, that is.
Cody and Logan have never gotten an allowance, and I usually forget to give the girls theirs unless we're shopping and they want something. At that point, it's purely a guess as to how much I owe them.
I'm curious about other people's thoughts and practices on allowances. Do you set up a day every week to pay everyone? Keep piggy banks for each kid? Designate the allowance into parts as I do? How much do you give your kids? Do you put the savings in an account? At what age did you start giving your kids allowances? Do they have to work to earn any or all of it?
Meet Carole Wolf. A woman with a passion for her job. Well connected in her community. And she has an extensive knowledge of how the arts can benefit us all.
But is that enough to stave off firings, cutbacks and fewer fundraising dollars?
Apparently not.
Carole is the successful executive director of the Mill Street Loft, an arts group in Poughkeepsie. They are managing their budget month to month. They track everything very carefully. "Now, more than ever we are looking at where we have spent our money and how it is working," she emphasizes.  
But they, like many groups I have spoken to, had to cut staff positions and limit staff hours. (With hopes to restore them, she says quickly). She knows that unless their current revenues pay for the costs they won't be in business too long.
Not for profit groups have to make a "profit" to survive and grow
Sometimes we forget, not for profit businesses have to run on a profit model. For these community groups, the profitable dollars go into raising salaries, running new programs and expansion, rather then towards dividends or higher returns for the owner. But, like all of us in business, we must make money to stay in business.
When asked how fundraising is going, Carole talks about their recent Friends of the Arts Awards. Over 300 people showed up and they raised about $75,000. (But she quickly assured me that it was not all profit.) The event was not only about money but about building new audiences, says Carole: "Acknowledging people in our community. Building new partnerships. Creating visibility in the community to other arts groups, cultural organizations and human service agencies."
Carole's instincts are sharp. That's what has allowed her organization to grow in this community, but again I ask, "Is that enough in this new environment?"
Database marketing = the difference between success and failure.
I would love a peek at Carole's database…or her cell phone directory…or where ever she keeps those valuable names, phone numbers and email addresses.
Here's an insider tip: if you get an email from Carole it may help your bottom line.
How? Carole can help you make your staff more productive by using creative techniques. Does she use this talent? No.
Many of us are too focused on us and getting our message out about how wonderful we are. In my experience, it doesn't seem to matter whether it is a for profit business or not for profit . We are all making the same mistakes. When, in fact, if we focus on using the new technologies to help others, they in turn will be more likely to help us in the long run.
Using new technology makes the tasks easier…once you learn the secret.
How does it work?
If you have a large contact database (and what exec doesn't) separate the names into groups: business, community, political etc. You decide the groups based on their needs, how they operate, and their importance to you. The key word in the past sentence is "them" and "they". This model is not about you, but it's about them: those key constituents you would like to reach.
Now see what knowledge you process that you can easily offer. To business executives, Carole could email a weekly tip that would enhance the creativity of their staff at their next staff meeting. I would subscribe to her email.
Now she needs to include a promotion for her email newsletter on her website to encourage sign-ups. She should promote it…promote it …and promote it again.  These tips should be archived on her website so that we can access the tips we may have missed. And the trick here is that businesses should have to sign up with a name and email address to gain access. (For Carole, email contacts = new business.)
Each newsletter has a pitch. This is key to this project working. I bet you think she should ask for money. Maybe or maybe not. How about this: "If my creativity tips are working for you, think how much more creative you could be if you attended one of our class series." Link them back to your website for the class schedule.
Use this time to think about what you offer and how you can use the new technology to promote your skills more effectively.
Want another fundraising tip? If your organization works with kids in your community, we have just created a new fundraising program that doesn't cost you any money or staff time and helps kid's creativity at the same time. Visit 
The Undercover Kids and  become a Community Partner.
Mill Street Loft
45 Pershing Ave
Poughkeepsie, NY 12601
845-471-7477
The Mill Street Loft
According to the Nadia Allen, the executive director of the Orange County Mental Health Association, some of their supporters have not been able give at the same level as years before. As an association they recognize that things must change. But how?
This year there will be no raises for the staff, says Nadia. This will help them offset any decreases for this year. She feels they have a very unique corner of the market; they don't offer direct services but provide support programs through the county, like their rape crisis hotline.
"We have always been very visible," says Nadia. "And we are always at the table when mental health related issues are discussed."
Like many high energy, dedicated executives, Nadia is involved in a wide range of professional groups including trade associations and the chamber. She feels her community involvement makes it easier to obtain grants. That is why she works hard during the day and then spends many evenings attending group functions.
When asked about the Mental Health Association's involvement with the web and social marketing, the answer is 'not much.' She will be attending an association conference, where they will discuss effective use of the web for not-for-profits.
Like many associations, the Mental Health Association uses the web's functionality to keep in touch with current members…usually during their fund drives. When asked if  the community uses their site, she proudly says that they have a lot of information on their site that many access.
Sometimes I wonder, if as the web expands our world and our access to information, we should try harder to narrow our focus. For example, if you have a membership list, divide the list into categories: professional groups who donate and individuals, or those in a specific region. Then develop messages for those unique groups and do it with some regularity….once or twice a month. And it is important to provide information that is useful to the reader…rather than focusing on your organization.
With the new ways we communication, it is time to rethink your marketing plan (that assumes you have one) and change how you "speak" to people.
If you are looking for a unique fundraising idea that does not involve attending another dinner or fundraising event visit www.TheUndercoverKids.com and signup to be a Community Partner. You make money will providing kids with a great outlet for their imagination.
Nadia Allen, executive director
Mental Health Association of Orange County
20 Walker St
Goshen, NY 10924
845-294-7411
www.mhaorangeny.com
Although Christopher Fortune is the new executive director for the Orange County Association for the Help of Retarded Citizens (AHRC), he brings a long history of working in the world of not-for-profits.
He is introducing new ventures that he hopes will bring a new audience to AHRC. This spring they hosted their first jazz concert and hope to conduct another this fall. Chris wants to use these events to attract people who may have never heard of his association.
With over 700 staff and a multi-million dollar budget, AHRC offers a broad array of services, from infant assessments to adult community residences. But Chris feels the agency is not as well known as other agencies in the county.
"Soon we will introduce a rebranding of our association," says Chris. "The word retarded is out of vogue. We want something that is easily recognized." Once they develop this new look for the association they will begin marketing the agency more heavily.
In terms of how the downturn economy is affecting the agency, Chris is concerned with New York State's lack of support and advocacy for those with disabilities. "Our funding base has eroded," say Chris, "causing us to have to be extremely conservative in how we use our money.
"Job security and maintaining services are continuing. But there will be no raises this year," says Chris. The agency will continue health benefits are the same level, but will look at variations on co-pays and wellness programs.
How is this forward looking executive using social networking? The agency has introduced a new, easy-to-use website. And they will introduce an online planned giving and donation program. But Chris is concerned about updating the agency's technology and educating staff on how to use the new web-based tools. "We have to start by teaching staff to use their internal user name and password," says Chris to make his point about how far they have to go.
AHRC's schools, which are about 1/3 of the agency's programs, continue to raise money for add-on programs the old fashioned way – selling chocolate bars and other small items.
If you are looking for a unique fundraising idea that does not involve making selling chocolate, visit www.TheUndercoverKids.com and signup to be a Community Partner. Introduce your kids, and those kids of others you work with, to a new exciting mystery series and earn money too.
Christopher Fortune, executive director
Orange County Association for the Help of Retarded Citizens
249 Broadway
Newburgh, NY 12550
845-561-0670
We are all hearing that the economy is in a slump. I was curious how community organizations are handling the downturn. After all, they provide valuable services. Read this community group's story and then see the tips I offer that should increase revenue.
I was a big sister for six years, so I decided to give Big Brothers Big Sisters exec Nancy Kosloski a call and get her take on fundraising and the economy. Nancy has been the executive director for many years, and she says this is the worst downturn she has experienced. Many of her staff has begun to work a four-day week to control payroll costs.
"Previous year's fundraising dollars moved us ahead and allowed us to introduce new programs," says Nancy. "Now our fundraisers fill in some of the financial holes we are experiencing."
Recently they held their annual bowl-a-thon which has always been wildly successful. The bowling event raised $31,000 this year. Last year's take was $36,000. "But we had 350 people bowl – which I considered great." Nancy made sure to congratulate the staff on the huge turnout. So what went wrong? Apparently, corporate donations were down. "We have a golf event planned," continues Nancy. "This year the golf outing will fill in the gaps that the bowling event didn't earn."
The organization plans to do more events, but it is touch and go because they have fewer staff who are working fewer hours. "This year we will have our motorcycle ride fundraiser with V Force Customs coordinating the event. We have to look at other events but will try not to repeat events that other organizations are conducting.
What are the major challenges Big Brothers Big Sisters are experiencing and how are they being addressed?
One major challenge for this community group has been the loss of their director of resource development – a key person. According to Nancy, another group offered her more money than Big Brothers and Big Sisters could afford. Because of their limited funding this year, they could only hire a part time staff member for that position.
"In terms of foundations, the help we usually count on has come through at 50% of last year's levels. We thank them for what they are doing now and hope as the economy turns the foundation money will be restored, admits Nancy. "Also the challenge of getting grants is greater than ever, and there is more competition for the same dollars.
How are you integrating social networking into your fund development planning?
Nancy tells her story:
"We are just starting to do that. For example, people can donate through our website. Those who participate in the motorcycle ride can sign up online. And people who bowled could form their teams online.
"We are looking to set up a Facebook page for special causes. I don't know the first thing about Facebook, and it requires additional staff time, which we don't have. I signed up for my own Facebook page just to see how it works, but I don't have time for more friends. This social marketing is a steep learning curve for me. "
Based on their limited funds what is the best direction for them?
Community organizations have the greatest difficulty moving out of their comfort zone. They know their programs, their staff and their kids. But do they really understand what others think about their program and what would encourage more people to get more involved?
How many of the current 350 bowlers, who they were really proud of, would become team leaders next year? How do they keep in touch with them? Did they collect email addresses? How often do they touch base and with what materials?
Create a blog (or short articles that can be emailed) that is sponsored by local bowling allies. Have the ally manager write about the best bowling techniques? If I only bowl once a year, I would be lucky to break 90 points. But if you send me coupons from local bowling lanes, and give me the needed tips, I may begin to enjoy the sport and get more involved with Nancy's group.
If bowling is an annual event, have bowling articles on the website and encourage me to sign up for your newsletter or your email blast that offers discounts and information. Encourage me to sign up my friends. Become a bowling resource.
I know this is counter intuitive. Why should I promote bowling when our goal is to offer mentoring programs for kids? First, you need to walk in your bowlers' shoes and second, you may get more new mentors than you realize.
So collect emails (they are very valuable) and use them effectively so people who participate in your events become engaged based on THEIR interests.
If you are seeking a fundraising  raising idea that doesn't cost you any money or staff time, visit The Undercover Kids and sign up to become a Community Partner.
Big Brothers Big Sisters of Orange County
253 South Williams Street
Newburgh, NY12550
845-562-3606